Completely Recreate Your Smile
Following extensive tooth loss, many people feel like they may never smile confidently again. At Woodcreek Family Dental, we're here to help put the confident, beautiful smile back on your face. We offer a wide range of tooth replacement options, including partial and full dentures. When you've experienced advanced tooth loss, call our team to find out more or schedule a tooth replacement consultation in our Murphy dental office. We'll examine your smile, review your options, and partner with you to plan to fully restore your smile. Whatever your tooth replacement needs, our skilled dentistry team is here to help put the happy smile back on your face.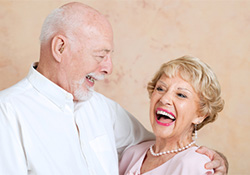 Partial Dentures
Partial dentures are used to fill in the gaps in you smile and preserve as much healthy tooth structure as possible. The denture is crafted using a gum-colored base material to support numerous replacement teeth within a single prosthetic. Partials fit snuggly between remaining healthy teeth, and they're held in position using clasps attached to healthy teeth, recreating lost tooth structures seamlessly.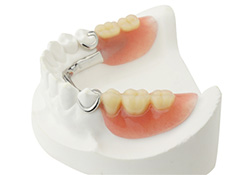 Full Dentures
A full set of dentures is crafted like a partial using a gum-colored base to support a full row of teeth. Because there aren't healthy teeth remaining to provide support, a full denture is crafted to create suction between the denture and gums. The snug fit between the denture base and gum line ensures optimal function. Some people will add a small amount of denture adhesive to improve the stability of their denture, but when properly fitted, your denture should stay in place through suction alone.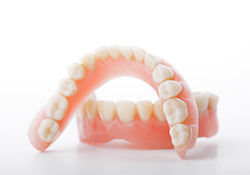 Implant Dentures
If you want to improve the stability and longevity of your partial or full denture, we offer dental implant supported prosthetics. Dental implants are small posts inserted below the gums that mimic the lost tooth root structures, fully supporting the denture like natural teeth. If you're interested in this option, let our team know during your tooth replacement consultation. We'll walk you through your treatment options, discuss the differences in pricing, and help you to determine whether or not implant supported dentures are right for you.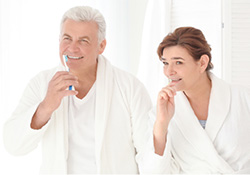 Maintaining Oral Health
Caring for your denture is much like taking care of your own natural teeth. You'll need to brush them at night before going to bed, and rinse and brush them in the morning before putting the denture back in place. It's also beneficial to brush between meals to prevent food or plaque from sticking to the surfaces of your denture. If you do have healthy teeth remaining, continue to brush and floss twice a day to keep teeth whole and functional. If you're fully edentulous (without teeth), you will still need to keep your gums healthy. We recommend using an antimicrobial mouth rinse twice a day to decrease the levels of plaque-producing oral bacteria and keep your smile healthy. During six month dental exams and teeth cleaning appointments, we can review your at-home hygiene routine to help you keep your denture functional as long as possible.