Dr. Oliver S. Villaruel ("Dr. V")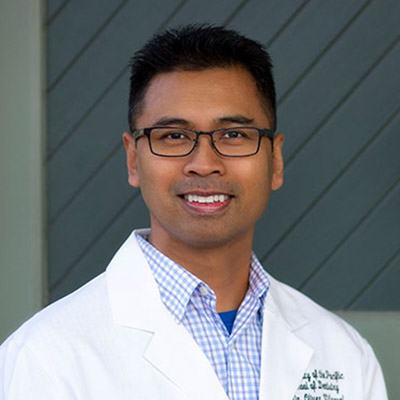 Dr. Oliver Villaruel has been practicing dentistry for nearly 20 years. After graduating from North Mesquite High School, Dr. V graduated from the University of Texas at Dallas with a Bachelor of Science in Molecular Biology in 2000, and received his doctorate at the esteemed University of the Pacific Arthur A. Dugoni School of Dentistry in 2005. He specializes in restorative dentistry such as crowns, bridges, and dentures. Dr. V is currently working on his Fellowship in the Academy of General Dentistry, and he is certified in both Invisalign and ClearCorrect.
Dr. V is proud to live in the community and work close to home. He was born in Manila, Philippines and came to the United States at a very young age. He was raised in the Dallas area and participated in Academic Decathlon in high school (go Stallions)!
Dr. V has been married to Christine for twelve years and is the proud dad of two energetic and talented boys, Noah and Nathan. He loves spending time at White Rock Lake and can't wait until his sons can run around it with him. Dr. V is a huge Dallas Mavericks fan, from the heartbreak (it was a conspiracy!) in 2006 to the triumph in 2011. He is a sports enthusiast and is very active in his community. When you see him at the movie theater or local restaurant, be sure to say hello!
Dr. V's sons, Noah & Nathan