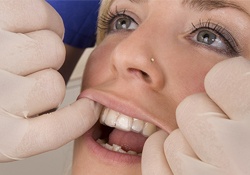 Clear Braces
At Woodcreek Family Dental of Murphy, we offer comprehensive dentistry services for patients of all ages under one roof. If you want to straighten your smile, we are happy to provide orthodontic treatment in our Murphy dental office. If you're looking for a time saving, cosmetically superior orthodontic option, Invisalign clear braces may be just what you need. If you want to learn more, call our team to schedule a smile alignment consultation today. We'll discuss your situation and help you determine what orthodontic treatment is right to deliver the perfectly aligned smile you deserve.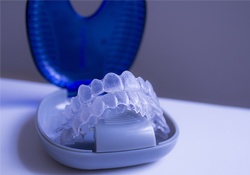 The Invisalign Treatment Process
Your Invisalign plan will take eight to eighteen months to complete. During the planning stages, we will design a series of aligners that will place pressure on teeth, shifting them into their ideal alignment. Each set of Invisalign trays represents your smile one step closer to the desired tooth placement. You'll wear the aligners for about two weeks. Then, simply switch to the next set in the series. Every six to eight weeks, you'll visit us for a checkup. We'll examine your smile to ensure teeth are shifting according to plan. This gives us the opportunity to adjust your treatment to keep you on track. After your teeth are in their new position, you'll use a retainer to allow the teeth to fuse with gums and bone tissue, preventing your smile from moving back out of alignment. In most cases, we can use a clear retainer that looks just like your Invisalign trays, so you can complete your smile alignment treatment looking and feeling great.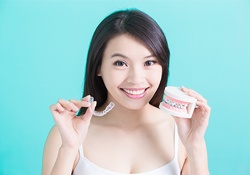 Benefits of Invisalign Clear Braces
In addition to offering a more cosmetic treatment option, Invisalign orthodontics also provide a number of other benefits for patients, including:
Faster treatment – you can usually complete treatment in about a year, and you don't need to visit us as frequently for checkup appointments. You'll save hours over the course of treatment compared with traditional orthodontics.
Increased comfort – the smooth plastic aligners minimize irritation to soft tissue compared with bracket and wire orthodontics, especially for those patients with allergies or sensitivities to metal.
Minimal hassle – you don't need to make changes to your daily oral hygiene routine or skip your favorite foods during Invisalign treatment. Simply remove your alignment tray and brush, floss, and enjoy all your favorite foods.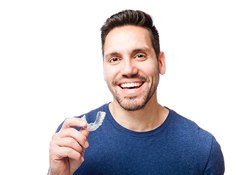 Caring for Your Smile During Invisalign Treatment
During Invisalign treatment, you can continue to brush and floss as usual, which is one of the many benefits of this treatment plan. However, some patients do report that their oral appliances begin to discolor or have an add odor. You should be brushing your alignment trays when you brush your teeth and taking care to rinse off your aligners between meals. To keep your breath and orthodontic appliance minty fresh, you may want to consider adding brushing between meals. This will further limit plaque and foods being trapped on your teeth and in your alignment trays.