Providing Children With Fun, High Quality Dental Care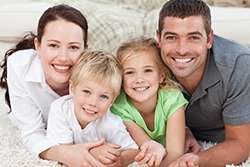 As a parent, you want your child to be healthy and successful. You monitor their doctor's appointments, diet and nutrition, and their oral health should also be no exception. Having successful visits to the dentist during childhood will help your child feel comfortable and safe getting the dental care they need for optimum oral health.
Dr. V. and Dr. Foley provide excellent children's dentistry in Murphy in an upbeat and welcoming environment that makes children feel right at home when they visit Woodcreek Family Dentistry.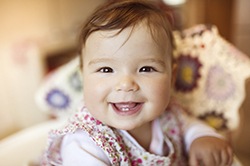 The First Visit
Our dentists recommend that your son or daughter's first visit takes place when their first tooth arrives, or at 12 months of age. This may seem early; however, it gives Dr. V and Dr. Foley the opportunity to begin building a relationship with your child, helping them acclimate to visiting the dentist, and start monitoring their oral development.
During their first visit, we will spend time giving them a ride in the "big chair," and counting their teeth during an examination. This is also a great time for parents to ask any questions they may have about their child's oral health and home care routine.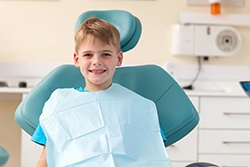 Keeping Your Baby's Teeth Healthy
Taking care of your son or daughter's oral health begins before their first teeth even arrive. As you're waiting for that first tooth, wipe down your child's gums after each feeding with a warm washcloth to remove any bacteria remaining in their mouth.
When is does arrive, begin brushing with a small, soft bristled toothbrush designed for infants. Brushing your little one's teeth helps them become accustom to the feeling of it, which helps them to begin forming good habits.
You will need to assist your child with brushing and flossing until around the age of seven or eight years old. Leading by example and letting them watch you brush and floss your teeth will help educate them about how to use proper techniques.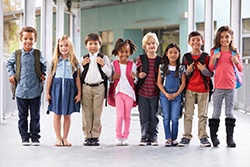 As Your Child Grows
When your son or daughter gets older, Dr. V. and Dr. Foley may recommend additional treatment for them such as dental sealants or fluoride. Dental sealants coat the chewing surfaces of their back teeth to protect them from the acids and bacteria that cause tooth decay.
Fluoride helps to strengthen their developing teeth.
We are also happy to provide custom mouth guards for those kids who choose to participate in sports. Almost half of dental emergencies are sports related and a custom mouth guard provides better protection than a one-size-fits-all product from your local sporting goods store.
Contact Woodcreek Family Dentistry
At Woodcreek Family Dentistry, we make it convenient for families to get the dental care they need in one place. We look forward to meeting your son or daughter and serving your family for many years to come!