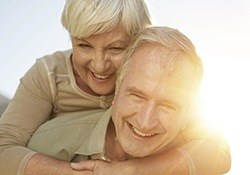 In addition to dental decay and accidents, even normal activity can leave a smile looking and feeling far from its best. When you need to get your oral health back on track, Woodcreek Family Dental can help. Using modern materials and a meticulous attention to detail, our doctors can repair damaged teeth and get them healthy again. If you have chipped, cracked, decayed, or broken teeth, we can help! Give us a call today.
Crown & Bridge
Want to prevent tooth decay and gum Dental crowns give us the ability to take a damaged tooth and restore its original strength and appearance at the same time. A crown is simply a tooth-shaped "cap" that fits directly over a natural tooth to cover and protect after any decay or problem areas are removed If you have a missing tooth, crowns can even be used to support a bridge that will seamlessly close the gap. Bridges also help correct the bite and prevent the remaining teeth from shifting out of place.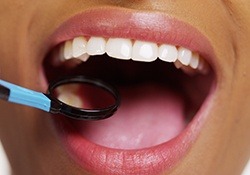 Tooth-Colored Fillings
Small cavities and slightly damaged teeth can be quickly and easily repaired in just one visit using tooth-colored, or composite, fillings. Unlike traditional metal (amalgam) fillings, composites are made of a resin material that can be specially shaded to match the color of a patient's teeth. Because they are entirely metal-free, composites aren't as sensitive to temperature changes, which means they won't expand and contract as the thermometer goes up and down. This helps them stay together for much longer than an amalgam filling.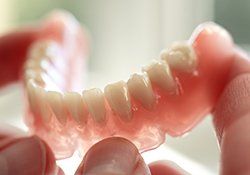 Full & Partial Dentures
Do you have one, or several, missing teeth? Dr. V can design a denture just for you that will restore your ability to eat, speak, and smile with confidence again. Partial dentures can replace numerous missing teeth while fitting in seamlessly with the remaining ones, and full dentures can replace an entire arch. We can even provide implant-retained dentures to help you achieve the most secure fit possible.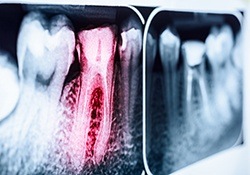 Root Canals
Every tooth actually has a small amount of soft tissue inside it called the dental pulp, which is where the delicate nerve is located. Sometimes, the pulp can become damaged or decayed, which can lead to an extremely bad toothache—one that makes it hard to focus on anything else! Fortunately, our team can often relieve this pain with a root canal. Thanks to modern techniques, patients normally do not feel discomfort during this procedure!
Extractions
Every tooth actually has a small amount of We do our best to help our patients maintain their natural smiles for as long as possible, but sometimes, the best thing we can do for a person's oral health is simply remove a problem tooth. An extraction is usually necessary if:
A tooth is too damaged or decayed to be restored
Gum disease has eroded the bone supporting a tooth
A baby tooth refuses to fall out naturally or is blocking an erupting adult tooth
Room needs to be created for a denture or orthodontic treatment
A tooth has become painful, impacted, or infected