Turn Back the Hands of Time Today
Has your confidence dimmed along with your white smile? You do not need to let discolored teeth impact your self-esteem any longer. If over-the-counter products have failed to give you the results you want, it is time to discover the benefits of professional teeth whitening in Murphy. At Woodcreek Family Dentistry, we have the solution you need for a beautiful smile with Opalescence. Your smile will become several shades whiter with results that last.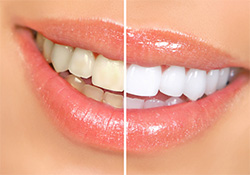 Causes of Tooth Discoloration
You cannot avoid tooth discoloration. Over the years, your enamel thins, making more of your yellowish dentin become visible. This causes your teeth to darken as you age; however, there are other factors that result in staining. Consuming darkly pigmented foods and drinks, poor oral hygiene habits, or smoking can accelerate the changes.
To turn back the hands of time, you have likely tried a few over-the-counter products, but you were left disappointed with the results. Although they are convenient, they do not contain professional-grade whitening agents, so they cannot provide drastic results. The only way to enjoy significant improvement is with a professional treatment.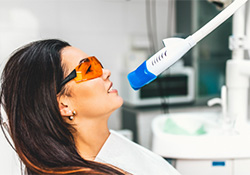 Reveal a Bright Smile
Woodcreek Family Dentist uses the Opalescence whitening system. The specially formulated gel contains active whitening agents that deeply penetrate your enamel to improve the appearance of surface stains. The whitening agents react to the discolored molecules to break the bonds that hold them together. As the gel spreads across your teeth, it reveals a smile that is as much as 8 to 10 shades brighter.
Take-Home Kit
You can enjoy in-office results from the comfort of your own home. We provide custom trays and the professional-grade whitening agent to use at home for the next 2 weeks. By the end of your treatment, your teeth will be several shades whiter.
Protect Your Investment
Your new smile can stay bright for several years with the right aftercare. For the first 24 to 48 hours, it is best to stick to a whitening diet, which consists of foods white in color. Afterward, maintain your home oral hygiene habits by brushing your teeth twice a day and flossing every night. Limit your contact with anything that may lead to new stains, such as coffee, tea, or smoking. Do not forget to visit your dentist twice a year for a cleaning and checkup.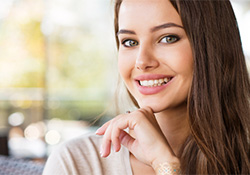 Schedule an Appointment Today!
You can restore your confidence by bringing new life to your smile with a professional whitening treatment. Contact our office today to schedule your appointment to discover which solution is best for you.