Transforming Gummy Smiles
When you look into the mirror, do you see a radiant smile you're proud to share? Many people aren't happy with some aspect of their smiles from the color to the shape of teeth or the position of the bite. However, some people's cosmetic smile concerns have very little to do with teeth. Instead, too large or uneven gum tissue can cause the smile to appear gummy or teeth to look stubby. When this happens, a simple treatment called gum recontouring can be used to correct the gum size or shape, leaving you with a flawless smile. Many patients are familiar with common cosmetic dentistry services like teeth whitening and porcelain veneers, but more innovative solutions like gum recontouring are still relatively unknown to the majority of people. On this page, you'll find the answers to some common questions about the gum recontouring process, but the best way to determine whether or not this treatment is right for you is to schedule cosmetic dentistry consultation appointment. Call the Murphy dental office of Woodcreek Family Dental to get started today.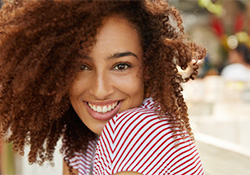 What is Gum Recontouring?
Gum recontouring is a cosmetic procedure used to improve the appearance of gummy smiles or uneven soft tissue, creating a flawless smile.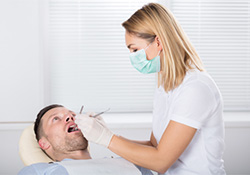 Should I Consider Gum Recontouring?
Gum recontouring is recommended to improve the appearance of smiles that are gummy or teeth that look stubby. If you have relatively good oral and overall health, this cosmetic dentistry solution will offer an ideal solution to create a flawless smile you're proud to share.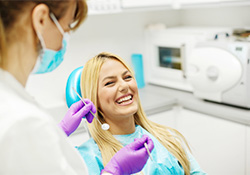 What is the Gum Recontouring Process?
Gum recontouring may be performed using scalpels and sutures or soft tissue lasers. Scalpel and suture gum recontouring can be an effective option for patients with relatively good oral and overall health. Soft tissue laser therapy is much less invasive, and this conservative solution is a great option for those patients who have a history of struggle with oral health, especially gum disease. Those with compromised immune systems or chronic health conditions may also want to consider soft tissue laser therapy rather than scalpel and suture gum recontouring.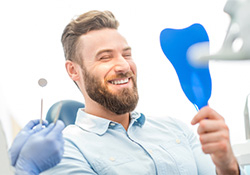 Is Crown Lengthening the Same as Gum Recontouring?
For the most part, crown lengthening is the same procedure as gum recontouring. Apart from the name, the main difference is the reason we perform this procedure. Crown lengthening is performed prior to the placement of a dental restoration, like a crown, bride, porcelain veneer, etc. The treatment is performed to expose a greater amount of tooth structure. This may be necessary to ensure the successful placement of your restoration. If there is not adequate structure available to support the restoration, crown lengthening can make it possible for us to preserve remaining tooth structures and fully restore your smile.